It has been a remarkable year for me, in the sense that I managed to keep going through all this chaos. I released a new album 'Land of Heroes' in April, and while many musicians have still been unable to tour properly, I was able to go out with a new live show and tour Germany twice, as well as playing some shows in Denmark, Sweden and Norway. A lot of the shows had to have limited audiences and some were reduced to livestreams, but many were outdoors or in large churches where it was easier to keep social distance.
I am very sorry that I had to cancel my trip to England in July; the restrictions made it impossible, but many of those dates have been re-booked already for next year.
The first tour next year will be in England in February and there are still plenty of spare dates. Now is the time to get in touch for HOUSE CONCERTS! They are very easy to arrange, just look at the page on my website www.raycooper.org/house-concerts, then get in contact with me ray@raycooper.org.
Among the following dates are some new ones not yet on the poster. I am particularly pleased to announce that I will be at the Rhythm Tree Festival on the Isle of Wight on July 8th.
Here is the list so far for 2022. More to come.
February
2 Eastbourne The Lamb
3 Birmingham Kitchen Garden
4 Bury St Edmunds Milkmaid
6 Settle Victoria Hall
11 Farncombe St Johns
13 London Green Note matinee
April 22 – 30 Denmark tour
May 21 – June 7 Germany tour
July UK tour
8 Isle of Wight Rhythm Tree Festival
9 Alton Holybourne Theatre with Rowan Godel
12 Bretforton The Fleece
15 Netley Chapel Sessions
16 Alvediston Church (Salisbury)
September 1-18 Germany tour
October Norway tour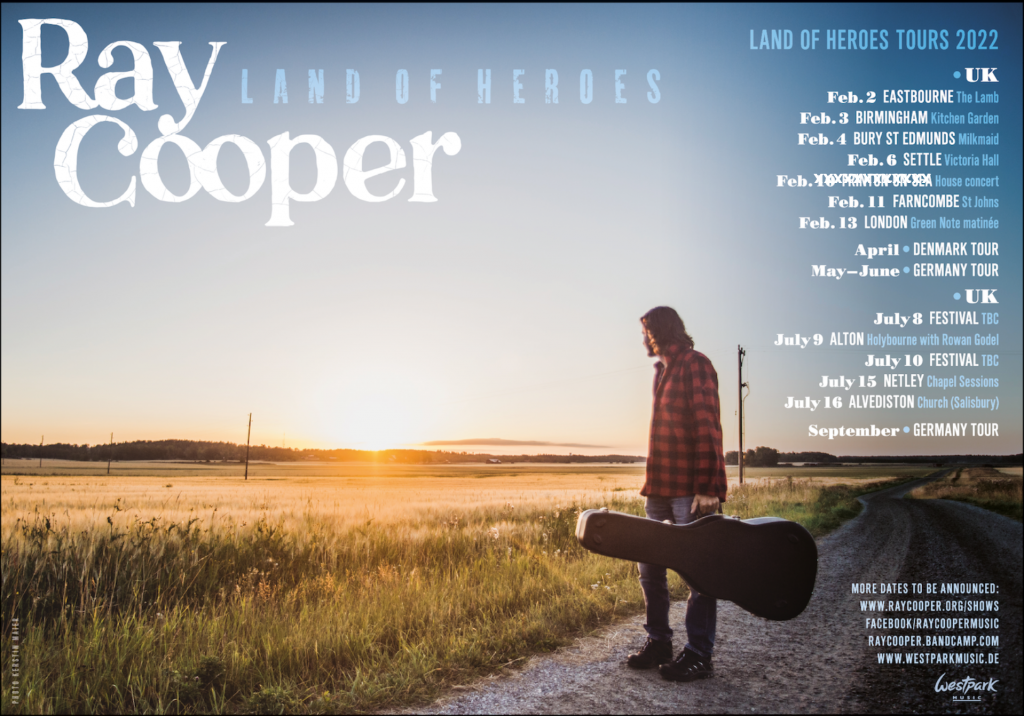 Photo Kerstin Maier
Photo Kerstin MaierPP