Saturday night I was playing at a private event in Halberstadt. All the Christmas markets were cancelled last week, but the organisers decided to throw a party in their garden instead. The temperature dropped to around 1 C., but with the help of some Swedish winter clothes and my fingerless gloves, I wasn't cold. I managed a long set, re-visiting a lot of my old songs as well as most of the new ones. I won't say how long I played, in case someone asks me to do that again, but suffice to say, it was the longest set I have played in my life. When I finished about 11.30, I enjoyed the glüwein, standing around one of the blazing braziers and chatting to the good people there and the stars came out above the silhouette of the great cathedral. It was a good trip, a small adventure.
Thanks to my great hosts, Wolfram and Gina and their family and friends.
Flying home was more than usually complicated, heightened security at Berlin Airport, Covid checks in addition to the nightmare of flying with three instruments, then waiting for my car to unfreeze at Stockholm airport. Home now and it was -10 this morning. Welcome, King Winter.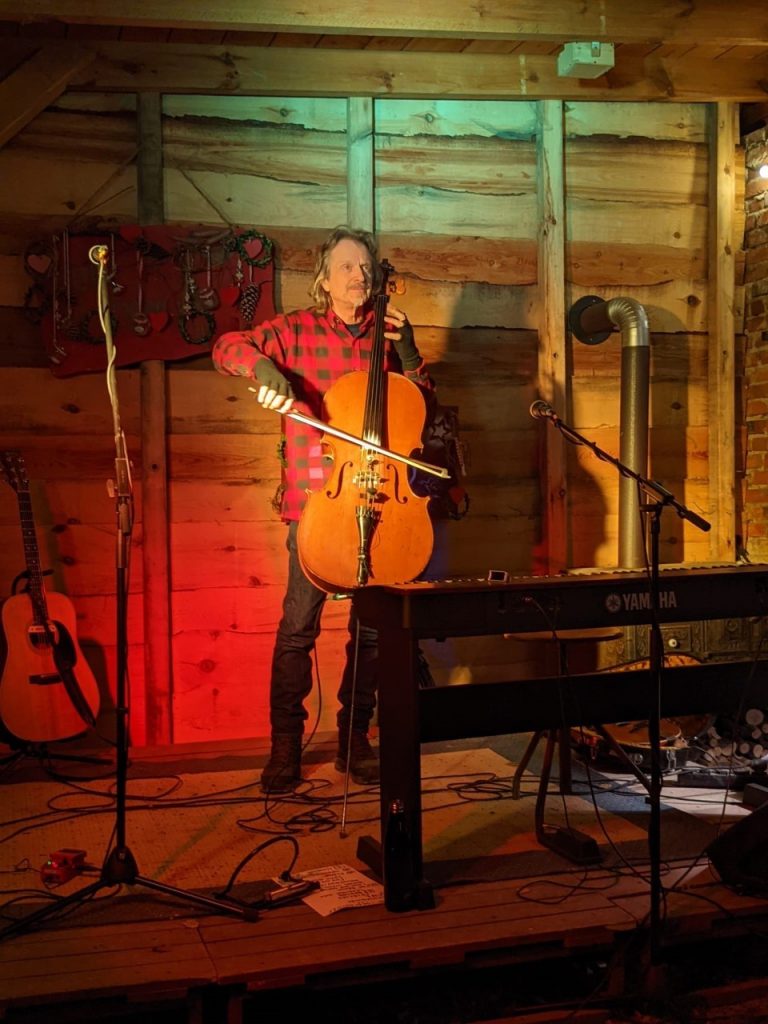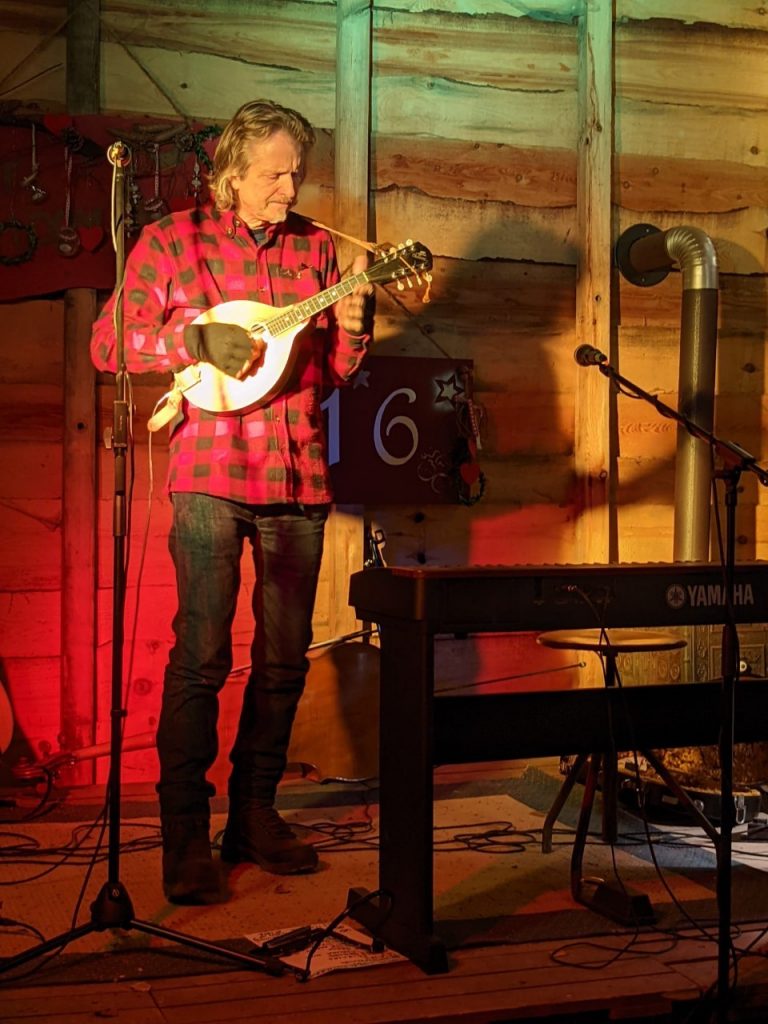 Here is the rest of the blog from Friday night
Well, here I am in Halberstadt Germany despite the best efforts of fate to keep me out. Although the Christmas market I was meant to play was cancelled at the last minute due to the increase of Covid here, the organisers asked me to come anyway and play a private party for them and their friends, in their garden tonight.
I had a look round this interesting city yesterday. Clearly this was a prosperous place about 700 years ago, when it was a Hansa town. The centre is dominated by huge medieval churches. Although Halberstadt was terribly bombed in the last stages of the war, and for years the DDR struggled with a lack of funds, many of ecclesiastical buildings in the old town have now been repaired. I looked around the massive cathedral, as you do. The walls of the cloister showed grim signs from intense close fighting when the Red Army finally stormed the city.
Later on, I was taken to hear part of a concert, only a very small part, we didn't stay till the end; the piece was set to last for 639 years. When John Cage wrote 'ASAP' (as slow as possible), it was first played on piano and lasted 20 mins. Someone then asked him to re-score it for organ and a special instrument was built in a ruined monastery church here. We listened to a two-note chord as we walked around this ancient building. The next time a note will change will be in April next year, they are expecting a big crowd.
I checked out the garden where I will play, it looks like a very nice set up. Temperatures are promised to fall to around 0C by 11.00 tonight, but there will be blazing braziers, and of course, gluhwein.
The organisers said 'at least this year we won't have to worry about power cuts'. Now I have heard of some strange reasons for power cuts; particularly about the ones in Iran caused by the massive energy requirements of computers used in Bitcoin mining, but this was a new one. First a word about Christmas markets: they occur on rather a larger scale than I had imagined. The market I was due to play at, had 4000 visitors two years ago and was only one of no less than 25 Christmas markets in this modest sized city (population 43k) and they all have to heat up their gluhwein at the same time. The power grid struggles and frequently crashes.
The other thing that helps keep out the cold is local food, and in this weather you need it if you are going to be outdoors. My hosts treated me to a wonderful meal of raw pork mice (from their own pig), sour cream, bread, raw onions, pickled mushrooms (penny bun/steinpilz/Karl Johan), minced offal, gherkins and more, most of it home made and washed down with local Hertzer Pilsner. On the walk back to the hotel I was glowing.