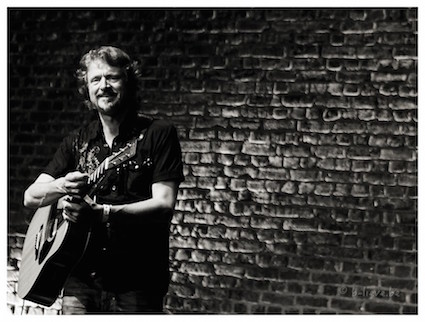 Photo Lieve Boussauw
Happy New Year. It's cold here in Sweden,  -11C  today, but sunny and fresh. I had a good Christmas and have been fooling around in the studio with a few ideas.
Touring again soon and lots of new dates have come in for the spring. So far 19 shows in England, Denmark and Germany. As usual, a lot of interesting and strange venues. Churches, castles, a monastery, museums, a cave, possibly a shipyard, rock clubs, arts centres, Irish bars, cabaret bars, theatres, folk clubs, anywhere that will have me basically. I am also doing  quite a few house concerts. There are still some free dates, so if you see a gap in the tour, I might be able to fit in another house concert. You can mail me at ray@raycooper.org
The first tour in February is probably my only appearance in England this year, I will be concentrating more on shows in Germany and on writing more songs at home in Sweden. See you out there on the road.
For full concert details see the concerts tab
Denmark
March 3rd 3f union private show
March 4th, house concert
March 6th, 7th,10th,         free
March 5th House concert
March 8th House concert
March 9th Idom Raasted Plexus
March 11th 3f union private show
March 31st House concert
Germany
April 1st  Magdeburg Sontage
April 2nd Gera Sontage Festival
April 3rd Schweina Höle (cave)
April 4th       free
April 5th Zeitz Green Island Pub
April 6th Bad Schmiedeburg Stadtkirche
April 7th Leipzig-Zuckelhausen Kirche
April 8th Lohmen private show
April 9th Prerow Seemannskirche
April 10th Stralsund Kulturkirche
April 27th Roslilde Denmark
April 28th Barmstedt
April 29th Flensburg StJohanniskirche
April 30th Kiel (To be confirmed)
May 1st Oxon Islands DK
May 2nd free
May 3rd Glucksburg House concert
May 4th  Hamburg Café Saltkråkan
May 5th Aukrug
May 5th, 7th, 8th, 9th Free
May 10th Gettorf monastery
May 11th Schleswig St Johanniskloster
Sweden
May 22nd Borlänge
May 28th Malmköping Trad folk concert
June 4th Mellösa Trad folk concert
June 30th Malmköping Trad folk concert
July 8th Ekenās with The Swedish Kitchen Orchestra
August 7th Ekenās with The Swedish Kitchen Orchestra