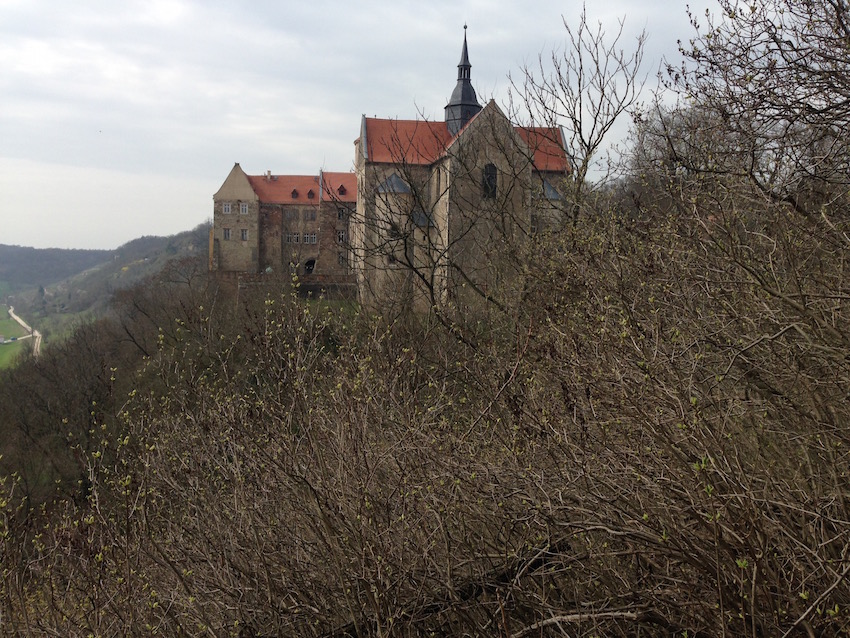 I based myself in Schloss Goseck last week while I made forays out to various local shows, including the wonderful Song Tage Festival, a singer/songwriter festival in Gera. I was the only inhabitant at the 1000 year old Slav castle, except for the tiny bats in the crypt (still hibernating) and the noisy kestrels (tornfalk) in the old church wall. In the valley below I watched storks wheeling above the River Salle as I ate breakfast in the small kitchen high up in the walls above the vertical cliff face.
On the way to Bad Smiedeburg I passed by the memorial where the Swedish King Gustav Adolf II fell in the battle of Lutzen in 1632. The king led a huge band of mostly protestant soldiers from many countries though Poland and Germany during the ghastly 30 years war. This is referred to in Sweden as 'The time of Great Power'. Personally, I think that the social democracy created after WWII is something to be much prouder of than a bloodthirsty king whom historians now say was killed by his own officers, but that is just my opinion.
The king's memorial became a protestant shrine and was a big tourist attraction though the centuries. During WWII the Swedish keeper of the memorial tried to protect it by telling the American soldiers it was Swedish territory. The myth persisted and during DDR times it continued to be visited by East Germans so they could say they had been to a foreign country!
I played last night in Prerow on the Baltic coast and had a walk this morning on the perfect white sandy beaches. The wind smelled good. The show was in the Seaman's Church. It was a Swedish church and was built during the time when the area was called Wendland and was ruled by Sweden.
Just one more show to go, another church and in Stralsund. It has been great to come back to the east part of Germany and play some new songs. I am enjoying my guitar a lot since I had it intonated. More about that later. Thanks to all the people who turned up to hear the music, especially the travelling heroes from Stuttgart and Hamburg. There are too many to thank, as usual. I will be back, and very soon. I start again in Schleswig Holstein at the end of the month.