The word impregnable is often misused but Querfurt castle deserves it.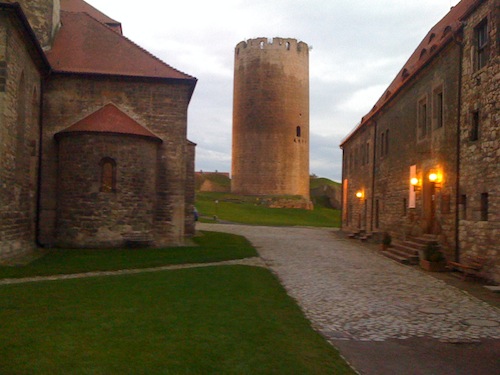 Founded in the 9th century, it had never been stormed. Most of the buildings date from the 11th century, including the round tower called Dichter Henrich. The walls are over 4 meters thick and it is surrounded by another lower wall, probably to counter mining, which is 10 meters thick, half of which survives. I played in the Fürstenkellar, the Duke's Cellar, a fine vaulted stone room, now a bar/restaurant. A small but appreciative audience, I like stone rooms.
Next up was Schloss Goseck, started as a fortress, in the 11th Century, (busy time the 11th century), it became a large Benedictine monastery, then in DDR times, a youth hostel, now it is called a castle again.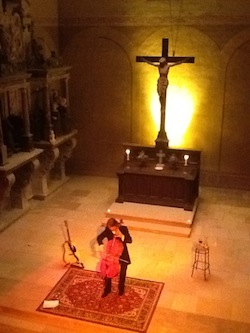 This was one of the best experiences of the whole tour, the place has a kind of magic. I played in the church, which is the old Abbey transept. No PA was needed, the acoustics are the best I have ever heard, I could sing and play as quiet as I wanted and everyone could still hear. I decided to play a different program, more songs on the cello, more folk songs including the beautiful Wexford Carol which I had never sung before at a concert. There was a good audience and everyone soaked in the atmosphere.
Robert, who runs the place, has long black hair, piercing dark eyes and sings medieval music (very well). When he told me I was the only one staying the night in the whole castle, he asked if I was afraid of ghosts? 'No'. 'It's OK there aren't any, I've never seen one and I have been here …two hundred…and..seventy three years'. I had the best night's sleep I had had in weeks.
Next morning, another surprise, I went for a run and came upon the Goseck Solar Observatory. Throughout central Europe there are a number of these neolithic earth rings, built about 7000 years ago for who knows what purpose, they all have causeways leading to the points of mid winter sunrise and sunset, as well as 1st May. All built around 2000 years before Stonehenge. This one is the only one in the world that has been reconstructed.
Berlin, and a show in another church, St Petrus, but it was far more like a folk club. I was pleased to see a full house and I played the longest sets I have ever done, I must be building up some stamina. I played their jangley old piano, I must remember to ask to have pianos tuned. Thanks to the travelling hero that came all the way from Frankfurt to see me, and went back again the same night. He was pleased to hear I will be playing in the western part of Germany again in March.
The last show was in Stralsund on the north coast. A beautiful old Hansa town, and like so many old cities in the former DDR, it is slowly being mended, with love, money, and time. The hotel was called the Harbour View, and it was true, if you came out of the lift on the fourth floor, stood on a plant pot and craned your neck you could just see a little square of water. The show was in a vast church, only 500 years old this time. So big that the purpose built theatre was lost upstairs in one of the transepts. Best sound of the tour and the fifth church in a row that had a bar.
A wonderful tour, thoroughly enjoyable from start to finish, my agent Juergen from Songs On Tour is already booking a return trip to the east next October. There are too many people to thank, I'll see you all again. I will also be in Belgium and western Germany in March, and northern Germany in April.