After the flat fields of Brandenburg it was a relief to drive into beautiful Saxony, what a wonderful area. The show in Meissen was acoustic and many thanks to Thomas and the travelling heroes that came all the way from Nurnburg. I will try to get to Bavaria, I want to do that.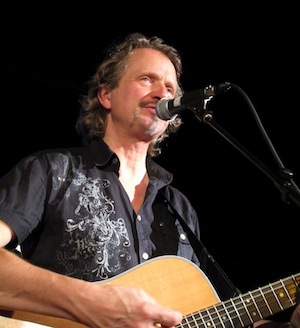 After Meissen I moved up the Oder to Pirna, another revelation, a superb old city. I played a private show in the Q24 club to a full house.
See here for pictures by Thomas Matthes.
The weather has been surprisingly warm and there hasn't been a day I haven't had the A/C on in the car. Some fields have what look like spring flowers growing again. Is this climate change? Pirna had some bad floods in 2002 when 400 litres of rain per square meter fell in 48 hours and looking down from the heights of Bastei, you can see that the water did not have many places to go.
On to Bad Elster on the Czech border, an old spar town and a classical music venue on a Monday night. I played the Bosendorfer piano which sounded quite good but would have been even better if it had been tuned recently. On the way out I passed a building painted blue and yellow which announced itself as the border with Ukraine! Oh no! Then I realised it must be someone trying to make some kind of political point, although I have no idea what.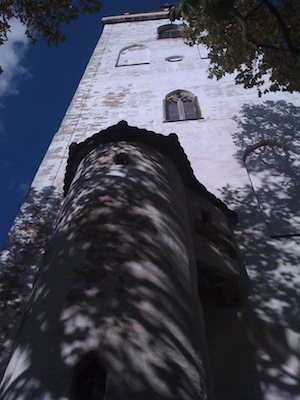 Things started to get really interesting as I pulled into the sleepy hamlet of Zuckelhausen, a satellite town of Leipzig. Like Leipzig itself, this town was founded by slavs (Sorbs, a word related to Serb), these Sorb villages are often built in a circle and I was to play in the old church. The oldest part of the church was built 900 years ago and was a romanesque slav fortress church, built on a square plan. ("It's got a lot of God in it". The vicar said). The audience were to make voluntary contributions for my fee, so I actually got the collection plate. It worked too, except I was left with a lot of coins.
Last night I was in Bad Smeideburg, another spa town. The church here was huge and very impressive. Again built on an old romanesque fortress church, this town must have had some money as they built it up on a huge scale in the middle of the 15th century. It was here that Martin Luther preached one of his first sermons outside his own town of Wittenburg.  I waited in the vestry pacing up and down as the local priest gave me a long intro to the 140 who turned up. Did Martin Luther stand here too, his hand on this door frame, waiting to go on, wondering what effect he would have on the crowd?
The great Swedish king Gustav Adolf was laid out in this church after he died in the nearby battle of Lutzen in 1632. That was during the 30 years war, a direct consequence of the new protestant religion that Luther preached. The Swedish army came back 5 years later and burnt the church, the town and all the nearby villages. They did things like that.
The show went fine and the audience were great especially as I hardly spoke a word of German. Older people in the east don't speak much English, they were all made to learn Russian at school. However I found some ways to bridge the gap. They had a great sound system in the church too. The collection plate went round and once again the congregation were very appreciative. I now have over 90 Euros in small change tied up in an old sock and I am about to try my luck to change them in a local bank where they probably don't speak English.
On to 2 castles now and whatever awaits me there.