On tour in eastern Germany
The tour started with the long drive through Sweden followed by a relaxing 6 hour ferry from Trelleborg to Rostock, just me, a lot of Polish lorry drivers and a bunch of Germans in camper vans coming home from holiday.
This tour is quite strange as it was organized by my friend and agent Juergen who died suddenly just 3 weeks ago. I had all the addresses of the shows but no names or phone numbers. I lost a friend and an agent but still had a tour to do.
Feeling like I had just fallen out of a space ship, I drew up outside the seaman's church in Ahrenshop on the north coast of Germany. It had a thatched roof, looked like an upturned boat and had great acoustics, not a problem to play this one with no mic. The problem was that I don't speak much German and suddenly I found a need to. I could not even ask who had booked me or where I was going to sleep the night. The little church was full and it all worked out in the end, as things usually do. Normally I would phone or text Juergen every day to say how the show went, it felt strange not to do that.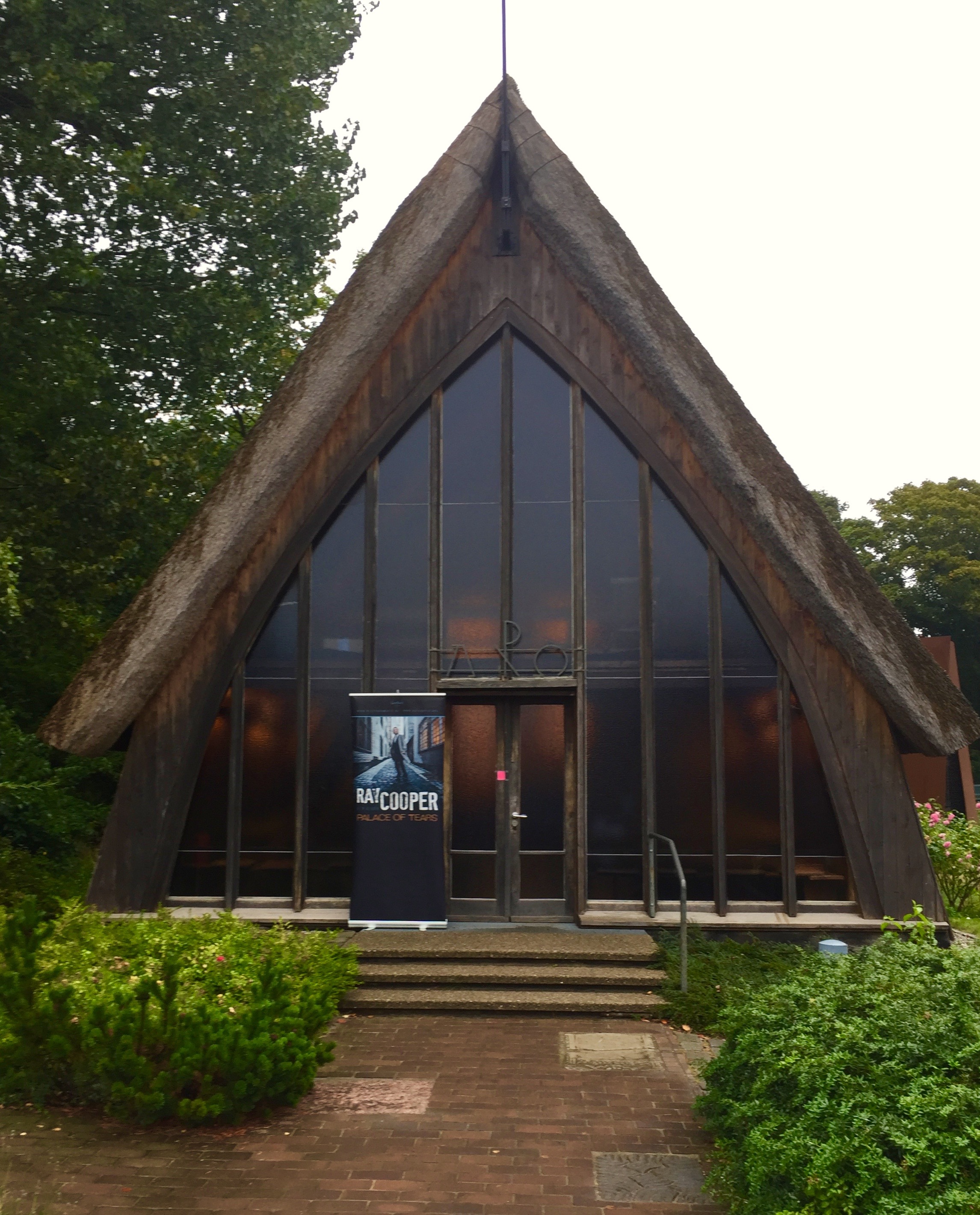 It was a wild and windy night, as it often is on the Baltic coast. The next morning I met an old lady who had been at the show. She told me she had slept in her car but was kept awake most of the night by the noise of the trees. Funny how I am learning to guess what people mean when they speak German although I can't say much back. I did try and learn German a long time ago, but back then I was playing in rock clubs and staying in hotels and after 2 years I had still not met anyone who would speak German back to me, everyone wanted to practice their English. Now I am touring in east Germany and talking to old ladies it is a bit different.
I drove to the beautiful city of Greifswald the next day expecting to play in the 'Kulturbar' only to find it closed for 3 weeks and inside only some building workers. The cafe next door (which was selling 'Real DDR ice cream, Soft Is') said the Kulturbar had 'a problem with the water tubes'. I guess a message was sent to Juergen but I never got it.
No matter, I went on to the next show, the Basiskulturfabrik in Neustrelitz and found sanctuary in their very nice hotel. Housed in an old stove factory, this place combines art house cinema, hotel, restaurant, bar and art gallery as well as concerts. What's not to like? It was good to have a day without traveling and I made good use of the time rehearsing some new songs on their old Yamaha piano. Great people there.
Next day I drove through the old state of Brandenburg, on arrow straight roads lined with huge oak trees. The gig was another church, organized by my friend Tom the taxi driver. I had met Tom (in a taxi) a couple of years ago when my car broke down in Berlin. Tom is from the east and we got talking about the old DDR days, he described for me what he was doing the day the wall came down. I told him I had written a song about my memories of East Germany and gave him a CD. We kept in touch and tonight's show in the old church in Wegendorf near Berlin was the result. The church, built in 1213 also had wonderful acoustics. I used a mic in the first half, then went fully acoustic, didn't need it. Thanks everybody for turning up to see this guy you have probably never heard about before, and thanks to Tom and his friends and family for making a great show for me.
On south to Bad Smiedeburg and a charming outdoor show in an old court yard behind the priest's house. It felt a little like one of those Elizabethan theatres. Luckily the weather was fine and just warm enough. As darkness fell the stage lights failed more than once but the audience pulled out their phones and shone the torches at the stage. I am feeling very lucky that I get to play in such nice places. Thanks to Juergen.