Here is a new song called 'The Unknown Soldier Has A Name'. It is based on the true story of Frederick Broadrick who was shot at dawn in 1917. I was asked to write this song as part of a songwriting project in Dranoutre Belgium. They sent me his biography taken from Julian Putkowsy's book 'Shot At Dawn'. I warmed to Fred, he liked a drink, he was not afraid of battle and he didn't give a shit about authority.
About the same time, I was in touring in Germany and played a house concert in Glücksburg. On the piano was a very old mandolin which I was asked to play. The lady told me it had belonged to her great-uncle who died in WWI, nobody had played it since. Well, it was not playable without a lot of maintenance work but the story haunted me. Shortly after that, by another co-incidence, I became the proud owner of an old Gibson mandolin, made in spring 1915, but looked like it had hardly ever been played. These stories seemed somehow connected so I wrote this song.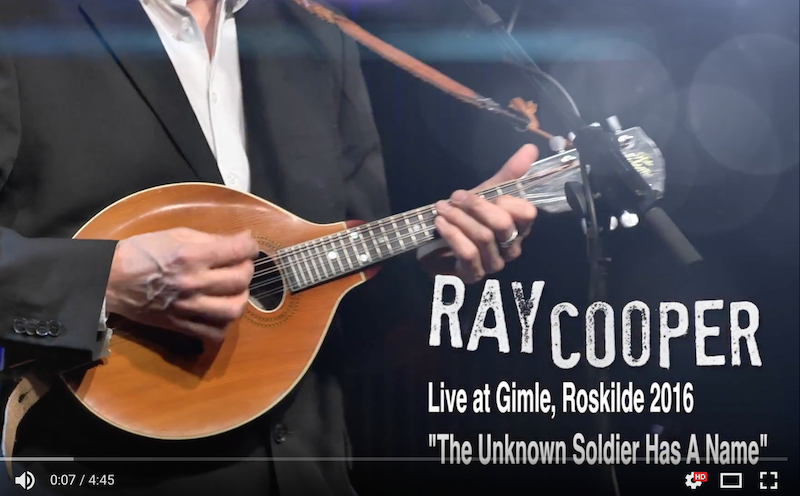 https://www.youtube.com/watch?v=-QPYuwddwWc
And here, by kind permission of the author, is Putkowski's piece on Fred.
Fred Broadrick was a Brummie. He was born in Ladywood (1887), where he worked as a labourer (boilermaker) and lived at 36 Norman Street, Winson Green, Birmingham.
He was originally a Kitchener volunteer; he enlisted with the West Yorkshire Regiment Army in Birmingham on 1 September 1914 and was described as: 5ft 4 1/2 ins; 125 lbs; chest 34 ins + 3 ins expanded; fair complexion; brown eyes and with brown hair. He was posted to 11 Bn. West Yorkshires on 16 September. However, his military career was cut short after refusing to obey an NCO on 10 October, for which he was punished with 14 days Field Punishment No.2 and absconded from his tent at Frensham Camp on 23 October. He was arrested immediately afterwards at Ash Vale railway station, in a condition that led the MPs to conclude that he was in a condition strongly resembling that of a man who had of the drink over-liberally imbibed. His commanding officer declared on the basis of Broadrick's  56 days military service, the latter was "A most insubordinate and bad character, [and] is not fitted to be a soldier."
On 24 March 1916 he was conscripted, and as Private No. 174402 F. Broadrick he was posted to 13th Bn. Warwickshires. After only five days Broadrick was punished with 72 hours detention for using obscene language to an NCO at Blandford Camp. On 13 June, for overstaying his pass he was fined 5 days pay and confined to camp for a week, and on 29 June he was tried by a District Court Martial and sentenced to 28 days detention.
After being released from detention, Broaderick was sent with other reinforcements to join 11th Bn. Warwickshires, and was reckoned by his Company Sergeant Major to be a hard and willing worker who kept a "cool head" in action. However, Broadrick deserted on 12 November and on 2 February 1917 he was sentenced to death by a Field General Court Martial. But instead of being executed, his sentence was commuted to ten years penal servitude and suspended, and Broaderick returned to the 11th Warwickshires and behaved well until 1 July 1917, when he disappeared from his billet in Dranoutre.
Four days later, on a bridge at Fort Risbon on the outskirts of Calais, a military policeman spotted Broaderick loitering with Private Arthur Hood, another soldier from 11th Warwicks. After a brief interrogation the pair were arrested and escorted back to Dranoutre, where they were both tried by Field General Court Martial on 20 July.
To the officers of the court, Fred explained:
I was out of my mind at the time. I have been like that since I fell off a roof about 20 years ago. I had some drinks of white wine and I did not know what I was doing for a couple of days. When I came to myself I was about 20 kilometres from Calais, and I was going to give myself up, when the police saw me. When I found myself so far away I thought it better to give myself up. I was not in my right mind. The doctors think it only bluff, that is why I don't go to them. When I fell off the roof I fell on my head. I was unconscious for a week. I have been in France 13 months, with the 11th Warwicks. I was in action at Arras. I have had the same trouble in civilian life. I am not frightened to go over the top. I met another man of my regiment near Calais. I thought he was after me at first.
On the eve of his execution Fred left all he possessed to his stepsister: Lilly May Daniels (nee Darby), 39 Norman Street, Birmingham.
Julian Putkowski