I arrived in Germany for the fifth and last tour of the year, only slightly the worse for wear after all the fun at the Shrewsbury Festival. I flew to Hamburg, took a train to pick up my car in Flensburg, then drove down to Hemer to start the 12 date German tour. The tour was again a real mix of venues: a couple of clubs, two churches, a theatre, a pub and a bunch of house concerts.
The first club was Grend in Essen. I thought the place looked a little familiar, even the dressing room, then I saw a picture of John Jones on the wall and I was told that I played here with him in about 2011 on his solo tour of Germany. After a long sound check (five instruments and two mics) and after I wrote out a set list, the power went off and stayed off. It looked like the show would have to be acoustic, in candle light. I wrote out another set, an acoustic one, no electric piano, no looper, then two minutes before I was due one, the power came back on again; I was almost sorry. Grend is an excellent venue and I had the best sound of the tour there, good lights too, so maybe it was good the power came back on. The next day I was in a beautiful old church in the unpronounceable town of Fränkische-Crumbach. This was organised by my friend Ulf, he told me the acoustics were so good that I wouldn't need a mic and he was right. I played the whole set acoustic and Ulf joined me on bodhrán for a few songs.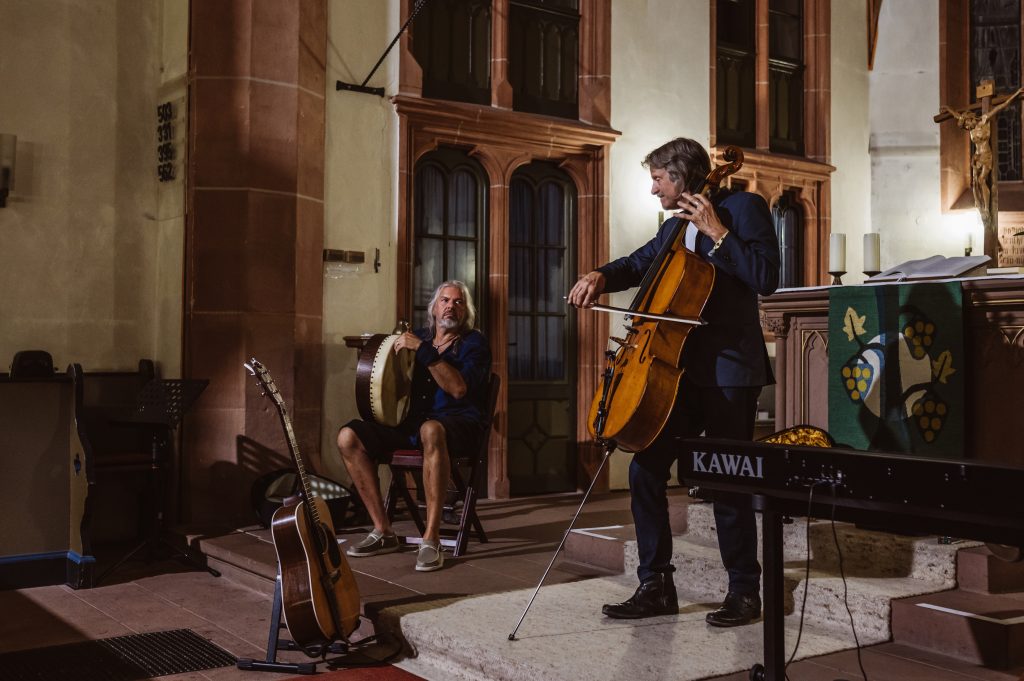 After the first three shows and all the travelling that entailed, I had a welcome day off. I met photographer Kerstin Maier to take some photos in the Odenwald (Odin's forest), a magical, ancient landscape. It was still summer and I played an open air private show in Ulf's garden the next day.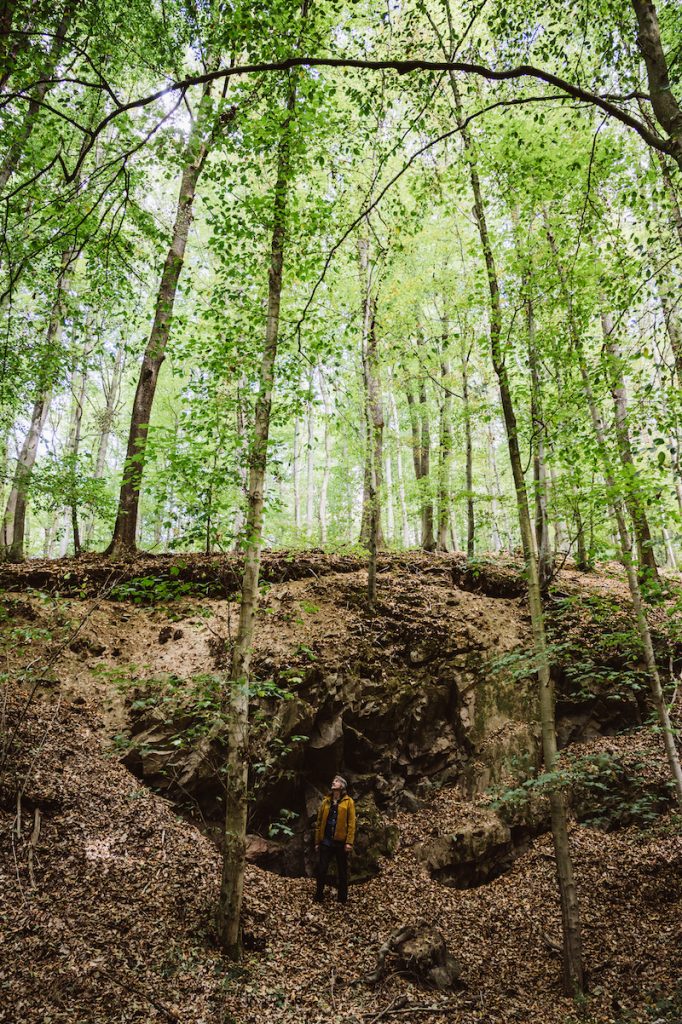 Photo Kerstin Maier
On to Cologne and a return to Lichtung, a cosy place right in the middle of the city. They have an old upright piano there that I like very much. I often wonder what these pianos have been through, with all the players and musics that have resounded in them over the decades, even centuries. They have a spirit.
Next was Paganinis in Bremen, a tiny pub with a great selection of whiskeys. I was joined on stage for a few songs by Wilfred Burger on Fiddle, who, despite no rehearsals at all, did very well. Then a long drive to the north-east of Germany to play in Malchin. The venue was very unusual; the Schlosskapelle (Castle Chapel) is a square wooden chapel, now turned into an art and concert space. The place was packed, even the galleries, however, this was the very last concert there, sadly, the place is closing down, I would have loved to have come back. During the show there was a terrific rain storm. At the end of my song 'The Wind', I paused for a few moments and looked up at the roof; for a few seconds, we all just listened to the rain.
Further east and back to Stralsund on the north coast where I have played several times before, but this time was different. As I waited back stage in the small theatre of Gustav Adolf Saal, I heard the welcome sound of stage hands hurriedly putting out more chairs. The show was a sell out and thanks to Heinz Bunze for sending me these nice pics.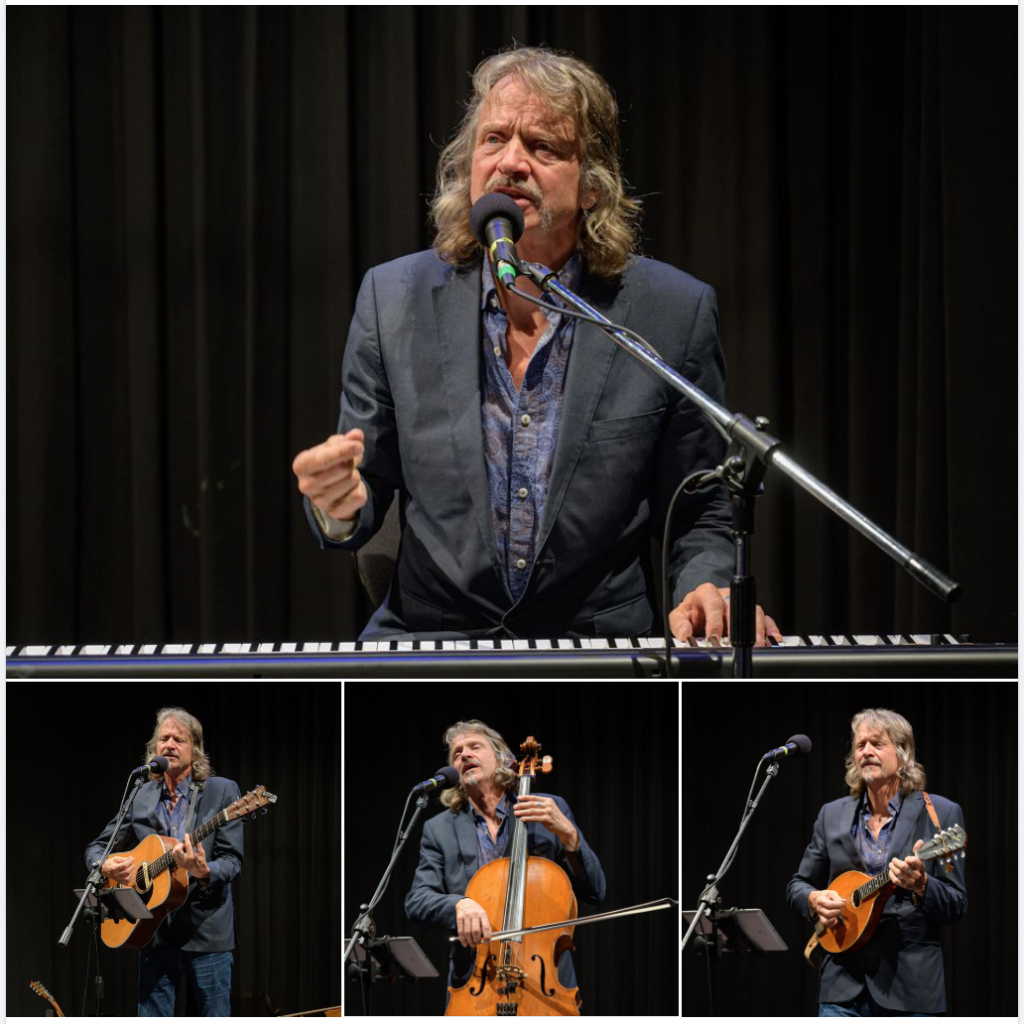 The remaining shows were all in Schleswig-Holstein, near to the Danish border. One unusual one was in a yacht club in Schleswig. They maintain old historic fishing boats and also teach kids how to sail. The club is really impressive. A bunch of volunteers, with almost no money, persuaded the town government to let them have a piece of old army land on the Schlei fjord. They worked together and even built the clubhouse out of old recycled army huts. I really respect things like that, it is the true meaning of anarchy. I set up in front of some of the old boats and from the stage I could see over the heads of the audience, across the fjord, to the site of Hedeby, one of the biggest trading centres in the Viking days.
The last house concert deserves a mention too. I had planned to leave Flensburg the next day and drive up to Aalborg in Denmark on my way to the ferry and home. There was a phone call asking if I could fit in one more concert, I said it would have to be an afternoon show as the ferry was already booked. The request came from a guy who told me his 96 year old mother was a big fan and would appreciate just a short concert. He had given her a copy of my album 'Between the Golden Age and the Promised Land' and he told me she plays it every day ('sometimes very loud'). I set up in their living room and played acoustically to her and a few of her relatives. I thought about which songs to play, there was only one option; to play the whole album and in sequence. I had never done this before but I am glad I did. The old lady spoke no English but I was told she liked it very much.
I am back in Sweden now, landed, with no more touring until April. However, I have an album to write so there is no lack of things to do. At the end of this month I have a show in Sweden with my friend, the excellent piano player Gustav Andersson.
Thanks to all the people who came to the shows, and all the friends who helped me and put me up, without whom I would not be able to live this precarious but interesting life.
See you all again in 2023.