Westpark Music
Released in August /September 2014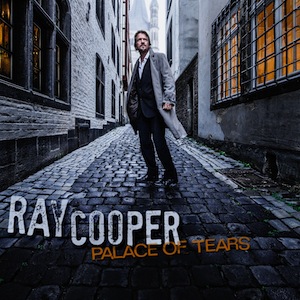 click here for the reviews page
click here for lyrics and album booklet
http://issuu.com/neomania/docs/ray_cooper_palace_of_tears/1
'It's about my experiences of living and working in northern Europe over the last quarter century. I define myself as a northern European now, rather than being Scottish or English'
'2011 was the 20 years anniversary of the re-unification of Germany. A lot of memories came back from my times playing in the former East. I met some good people there and had a holiday in East Berlin in the summer of '89. Then I witnessed the wave of history that swept over them. There was a checkpoint in the wall at Friedrichstrasse Station. The West Berliners would go through on a day pass to visit relatives in the East. On the way back, it was a place of goodbyes, hence the ironic nickname Der Tränenpalast, the Palace Of Tears'.
UK
Fatea Oct 2014     'A maelstrom of an album'
fROOTS Oct 2014   'Like its predecessor, Palace Of Tears is a mighty sounding record, one which audibly means business right from the outset'
Maverick November 2014 **** 'There's folk here but it's never quite folk, instead taking on a romantic and cerebral edge giving it a very different crossover appeal…..A sterling piece of work'
Spiral Earth 28 July 2014 'It works incredibly well'
France
Forces Parallèles 1 September 2014 'Un album d'une beauté intense pour un artiste qui a le folk à fleur de peau'.
Germany
Saarbrücher Zeitung Treff 28 August 2014 **** ' Und dass dieser Mann fähig ist sich berühren zu lassen demonstriert ein jeder einzelne Ton dieses intensiven Albums eindrücklich.'
Musikreviews.de 29 August 2014 ..'beeindruckenden..auf "Palace Of Tears" (gibt's) viel zu entdecken. Ein Album, für das man sich Zeit nehmen muss – erst so entwickelt es seine gesamte Schönheit'.
Folker 2014 ..'musikalisch lässt sich Cooper zunehmend von seiner schwedischen Wahlheimat inspirieren…aber wer Songs mit Tiefgang sucht, der ist bei Ray Cooper goldrichtig'.
Austria
Concerto October 2014 ***…'Texten und Kompositionen Qualitäten in der Singer/Songwriter Tradition…..grund-soliden Werk'.
Sweden
Eskilstuna Kuriren 14th September 2014 **** 'Malmköpingsbon Ray Cooper har fångat det vemod som är gemensamt för folksjälen I både Skottland och Sverige…..Det är vackert och sprött med mystik invävt men här fins också låter med tyngd och rockkänsla'.
Denmark
Rootzone.dk 24th September 2014 'Cd'en og Coopers sang er troværdig og vellykket, både tekstmæssigt og musikalsk..Det er imponerende og lidt usædvanligt, at en sanger også har så intenst et forhold til det instrumentale, og det lader sig høre i de meget færdige og velproducerede arrangementer'….